Photoshop
is the photographers best friend, and thus the customer's very good friend. When talking about image manipulation, things often fly or are impossible to construct in real. It is much fun to do and often results in some very spectacular pictures.
Good image editing is often not noticed.
Tight deadlines, delayed productions and transport times are challenging combinations. And here digital image editing can be a considerable saving.
Often countless hours and a lot of money can be saved by spending a little extra on photographing and image editing. It might look impossible, but the impossible I handle in photoshop. Miracles take a little longer.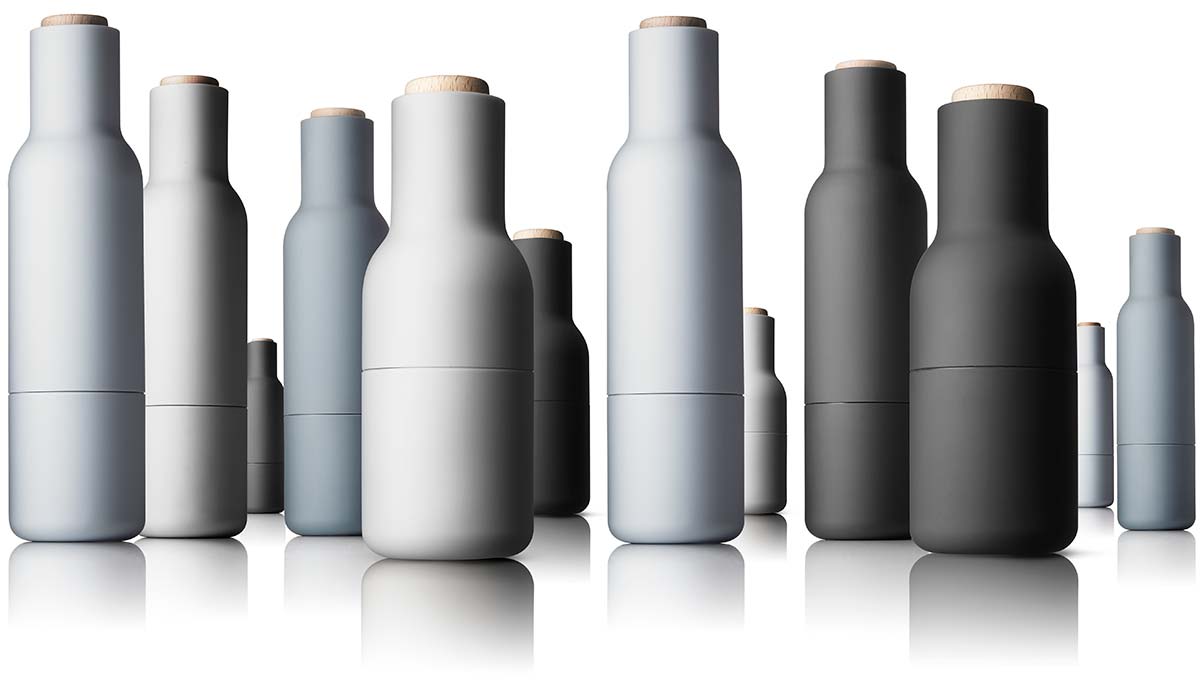 Menu…
… is a design company that continually launches new products and new versions of old products. The problem for Menu is that often there are no perfect products or prototypes. However, tight production plans demand imagery before suiting photo samples can be acquired.
The solution is to photograph the prototypes or products that look the best and then edit and copy them in photoshop. The example above shows two pepper grinders, in wrong colours, and insufficient numbers, However, a group photo of several grinders in four new colours were needed. Photoshop did the job.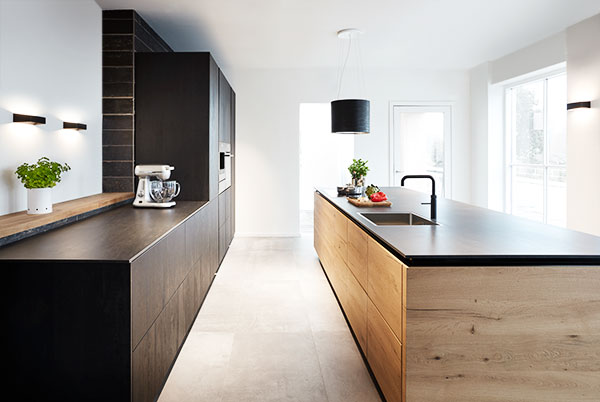 Kitchen company Rotpunkt…
… wanted some of their show kitchens to be photographed but would like it to look more homely. The kitchens were beautiful, but many details revealed that it was not home.
The solution was to photograph the kitchen at the optimum angle, and then close the hole in the wall to the left, clear the screen and the table in the room at the end and remove the radiator and the lamp under the ceiling.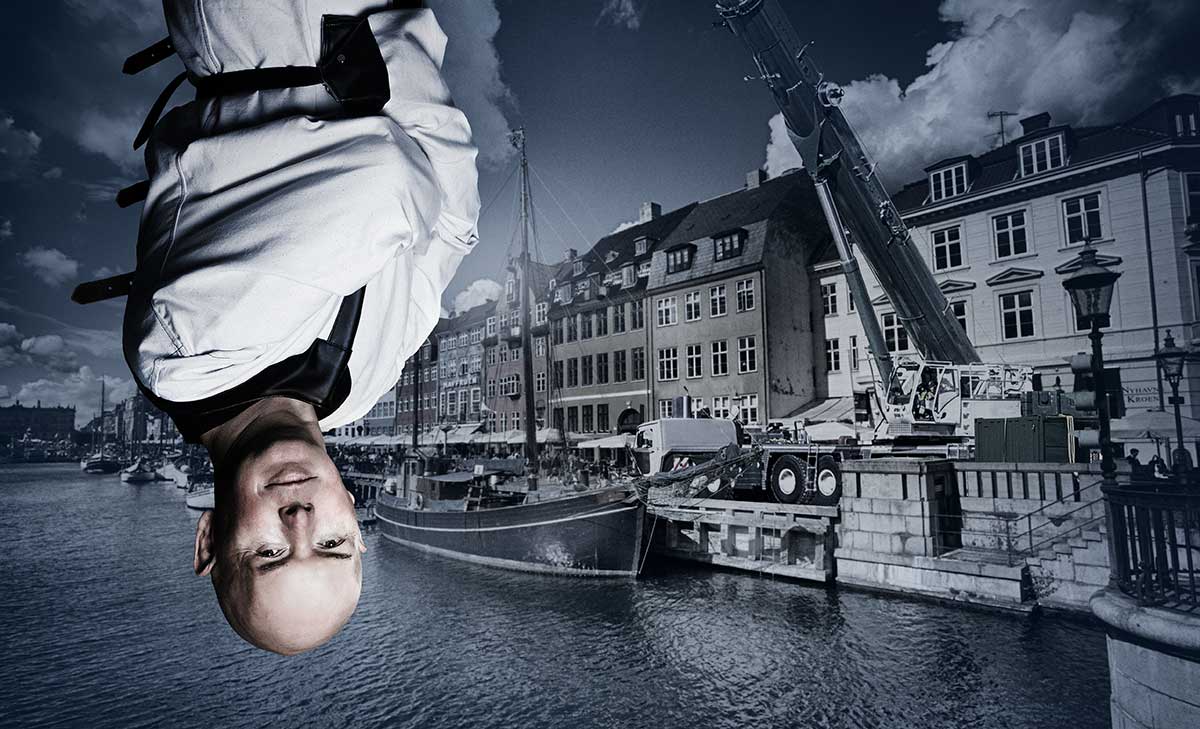 Et billede af tryllekunstner og udbryderkonge Michael Deutsch…
A picture of magician and escape artist Michael Deutsch, hanging in the feet from a crane on Nyhavn/Copenhagen centre. It sounds cumbersome and costly. Fortunately, all of the parts can be shot individually and put together in photoshop.
Michael Deutsch came into my studio and was photographed wearing a straitjacket. The crane worked on a construction site, where I was allowed to take a picture of it, and the shot from Nyhavn I made on a lovely summer day.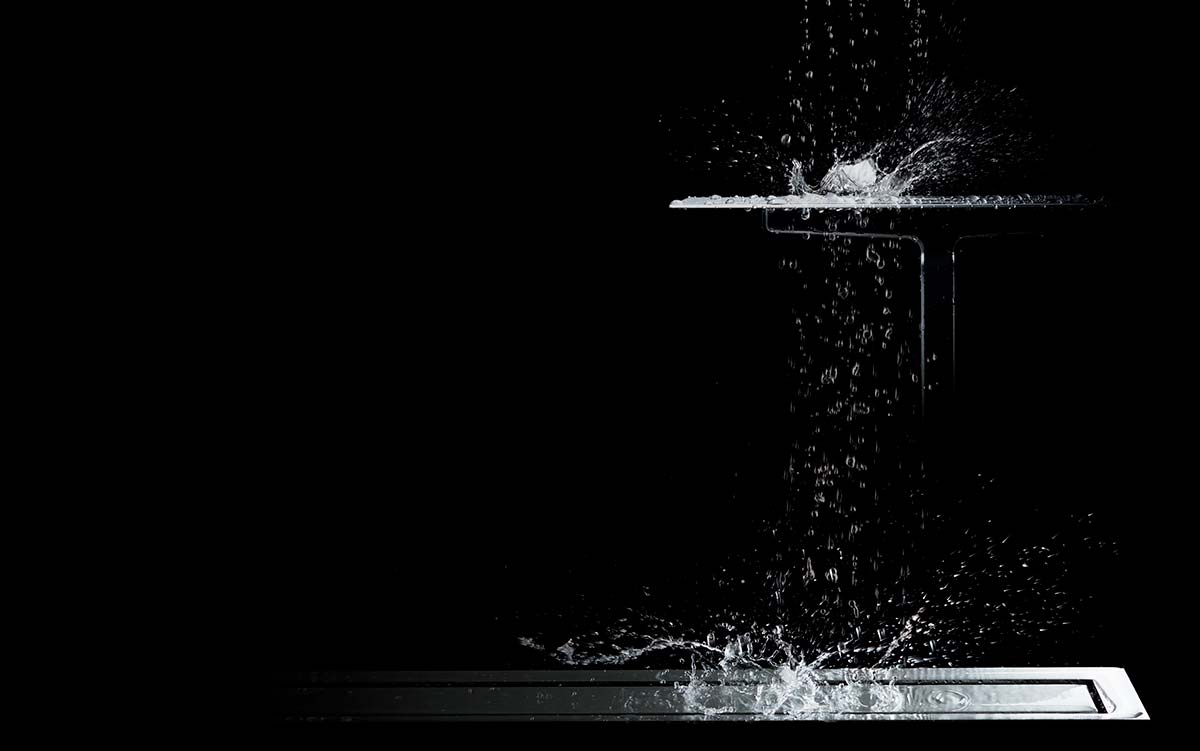 Unidrain…
… is a manufacturer of high-end bathroom accessories. They needed a cover image for an architectural sample book, where they wanted two of their main products depicted in an exquisite way that reflects their intended purpose.
Water was a natural choice, and after many experiments with a watering can and blocks thrown into water tanks to get the right spray, a picture emerged with the perfect effect.